1
Why Our Softball Car Magnets are the Best
**100% Made in the USA
**5 Year Warranty – Durable car magnets that resist cracking & fading

**Double the Thickness – Our magnets are 34 mils
**Printed, Not Laminated – We print directly on the surface, with UV ink
**Full-Service Art & Design Team
---
Magnet Pricing Chart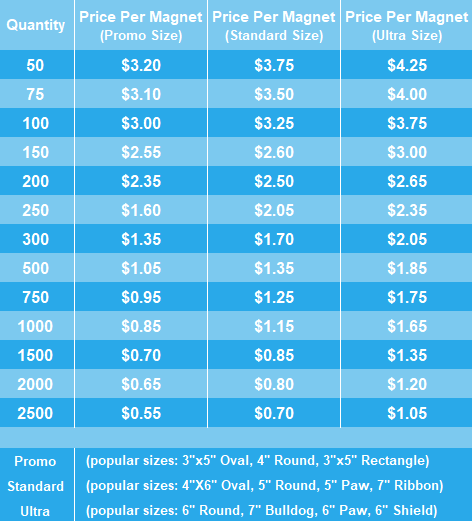 *Price tiers cover all custom shapes
*Price includes UV digital printing (screen printing available upon request at additional charge)
---
Easy & Personalized Ordering Process
#1 Submit Your Custom Design Order / Quoted Price
#2 Customer Service Rep will Connect with You Quickly
#3 Custom Magnet Mockup Created & Provided
#4 Approve Your Digital Proof
#5 Magnets Printed & Shipped!
---
Get Started with an Instant Price Quote!
Not ready yet? Need help with choosing a design?
View Our Softball Magnet Templates Below
Softball Car Magnets – Show Team Support and Spirit in Style
With softball car magnets from LogoMagnet, you can improve your fundraising efforts while encouraging greater team spirit. Whether used for a fundraiser or simply as a gift to your hardworking players (and their parents), these magnets will improve visibility and, potentially, your team's budget as you seek to get your name out there in the local community. Everyone, from the players themselves to the grandparents and other fans who support them, will love these professionally printed team magnets.
Softball Magnets Make Great Fundraisers and Team Gifts
How can you use softball car magnets? First, consider using them as a fundraiser. Get your fans excited about showing support for your team with the chance to buy softball team magnets from you. Because LogoMagnet keeps our prices so low, you can offer these affordably while still making a profit. Also, since magnets do not permanently adhere to cars they are a popular way for people to show team spirit during the season. They will sell quickly at pep rallies, sports games and school fundraising nights.
You can also use these magnets as gifts for those who already support your team. Parents of players, the players themselves and your corporate sponsors will all relish the opportunity to show their team spirit with a magnet on their car. Each time you give away one of these magnets to someone who cares about your team, you gain the opportunity for more branding and awareness.
Ordering Custom Softball Magnets is Made Simple with LogoMagnet
If you like the idea of using custom softball magnets as your next fundraiser or gift option, then the next step is to create and order your custom magnets. Start by browsing our extensive selection of designs to find one that is a good fit for what you want. If you don't see the exact design you are considering, don't worry. We will help you make one of our templates your own with the help of our design staff.
Once you have your basic template, send us your artwork, text, and color choices, and our designers will create a custom design for you, emailing you the proofs for your approval. Once we have finalized the design with your input, we will get to work creating your custom magnets. They will be in your hands in no time — we ship within seven to 10 days of the order date.
Do you love one of our pre-printed magnets? Then choose that design and the color that is the best fit for your needs, and have your magnets in your hands even faster. We can even pre-sort the order for you to make distribution easier.
At LogoMagnet, we want you to be fully satisfied with your order, from the moment you pick the design to the moment the final recipient places the magnet on his or her car. Contact us today to start creating your custom magnets to show your support of your softball team.

All LogoMagnets template sports magnets below are 100% customizable, from colors to text and styling. If you want to use your own artwork, use our Upload Your Own Design Form Here.