1
Why Our Custom School Car Magnets are the Best
**100% Made in the USA
**5 Year Warranty – Durable car magnets that resist cracking & fading

**Double the Thickness – Our magnets are 34 mils
**Printed, Not Laminated – We print directly on the surface, with UV ink
**Full-Service Art & Design Team
---
Magnet Pricing Chart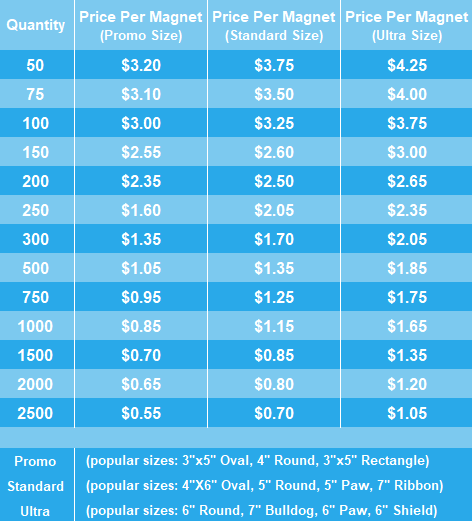 *Price tiers cover all custom shapes
*Price includes UV digital printing (screen printing available upon request at additional charge)
---
Easy & Personalized Ordering Process
#1 Submit Your Custom Design Order / Quoted Price
#2 Customer Service Rep will Connect with You Quickly
#3 Custom Magnet Mockup Created & Provided
#4 Approve Your Digital Proof
#5 Magnets Printed & Shipped!
---
Get Started with an Instant Price Quote!
Not ready yet? Need help with choosing a design?
View Our School Magnet Templates Below
School Car Magnets as Gifts, Fundraisers, Handouts & More
What can you use custom school magnets for? Just about anything. These beautiful, professionally printed magnets are the ideal way to showcase school spirit or raise funds for your school. You can sell them to students, parents, grandparents, faculty, staff and your supporters. The affordable pricing from LogoMagnet allows you to sell the magnets for a good profit.
Fundraising is just the beginning of what you can do with these magnets. Are you looking for a way to say "thank you" to your vendors, supporters and staff? Why not offer car magnets with your school's logo on them as thank-you gifts? This will be appreciated by people who love your school, and these magnets are an affordable gift option.
Perhaps you need a special item to give to your boosters to let them show their support for your school. Again, why not go with school car magnets? Your boosters will be proud to showcase these on their cars, and you will love the affordable pricing.
No matter who purchases or receives these magnets, you will find that they love displaying them. Parents and grandparents love to show support of their child and their child's school. Fans of the school's sports teams will want to show their support throughout the community. Staff members can showcase their pride in their workplace with a custom magnet on their cars. Students who are driving will also enjoy having these magnets for their cars.
Affordable Pricing & Simple Ordering with LogoMagnet
With all of the benefits and opportunities offered by custom magnets for your school, the next step is finding the best place to order. At LogoMangnet, we strive to keep the pricing low, so you can afford to order the magnets you want to show your school spirit.
We have also streamlined our ordering process, making it simple and convenient for you to get exactly what you want out of your custom magnets. Start the ordering process by visiting our pre-made designs. If you see one that matches what you are thinking of ordering, we can tailor it to your needs with your mascot and your artwork.
If you prefer to start from scratch, LogoMagnet has a team of designers on hand who are ready to go to work for you. We will work with you to design a custom magnet that will showcase exactly what you are envisioning. The end result will be a magnet unique to your school designed with your graphics and artwork.
After you finalize your design, you can expect to see your final magnets within 10 days. We make our magnets right here in the United States, which allows us to ship them to you more quickly than the competition. They are ready to use straight out of the box, so you can begin giving away or selling your magnets as soon as they arrive. Start your order today, and see how effective custom magnets can be for your school.

Note, All LogoMagnet template magnets below are 100% customizable, from colors to text and styling.