1
Why Our Ice Hockey Car Magnets are the Best
**100% Made in the USA
**5 Year Warranty – Durable car magnets that resist cracking & fading

**Double the Thickness – Our magnets are 34 mils
**Printed, Not Laminated – We print directly on the surface, with UV ink
**Full-Service Art & Design Team
---
Magnet Pricing Chart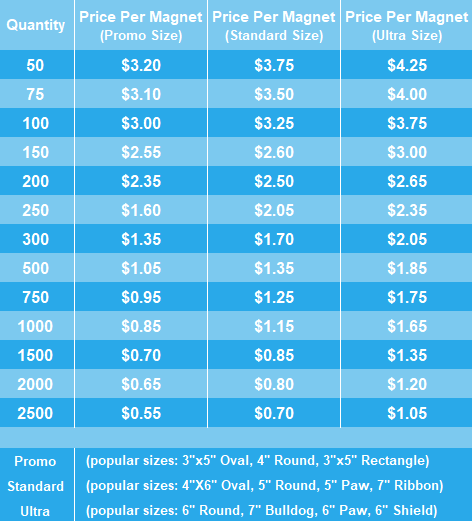 *Price tiers cover all custom shapes
*Price includes UV digital printing (screen printing available upon request at additional charge)
---
Easy & Personalized Ordering Process
#1 Submit Your Custom Design Order / Quoted Price
#2 Customer Service Rep will Connect with You Quickly
#3 Custom Magnet Mockup Created & Provided
#4 Approve Your Digital Proof
#5 Magnets Printed & Shipped!
---
Get Started with an Instant Price Quote!
Not ready yet? Need help with choosing a design?
View Our Hockey Magnet Templates Below
Hockey Car Magnets – Reward Fans While Raising Funds with Custom Hockey Magnets
Hockey is an intense sport that generates die-hard fans. You can capitalize on this by offering hockey car magnets for your players, fans and supporters. With the right hockey magnets to display on your supporters' cars, you can generate team support while also raising funds for gear, uniforms and all of the endless costs that the team faces. With LogoMagnet and our professional car magnets combined with our affordable prices, it's easy to create a fundraiser that works.
Custom Hockey Magnets for Players, Parents and More
When you start to think about custom hockey magnets and the people who could enjoy them, the list will get long quickly. First, you will want to offer these magnets to your players and their families. This group will be proud to display their team pride on their vehicles. Don't forget to include aunts, uncles, grandparents and siblings in this list.
This is just the tip of the iceberg. Your team also has supporters and sponsors. Let them show their pride in your team with custom magnets displaying your team name, colors and mascot. Your fans that come to each and every game will also love having a magnet to show their team spirit.
Using Hockey Car Magnets as Fundraisers and Giftse
Hockey car magnets can be used as both fundraisers and gifts. For a fundraiser, have your players take orders for magnets. We will make your magnets and divide them out so they are easy to distribute once you have them, and you only have to pay for what was ordered.
You can also set them out at the admissions table, so fans can pick one up when they come to the game, or ask your sponsors to sell them at their places of business. Get creative, and soon you will see your logo on cars all around the community.
Sometimes logo magnets for your hockey team work better as gifts. Show your fans how much you appreciate them by giving them a free hockey team magnet. Have incentive nights where the first 50 fans receive a free magnet. Give magnets to your booster club, sponsors or financial supporters to say "thank you."
Either way, when you shop for your magnets with LogoMagnet, you will find that our affordable prices make it an easy option for your fundraising and promotional needs.
Simple Ordering Process Gets Hockey Team Custom Car Magnets to You Fast
One of the benefits of shopping for your hockey magnets with LogoMagnet is our simple ordering process. If you find something you like from our premade designs, then we will help you customize it so it will represent your team.
Yet at LogoMagnet, we know that your design may not be reflected in our premade designs. That's why we have a team of design professionals who are ready to go to work for you to create the exact design you need. Send us your name, colors, logo, mascot or any other artwork you want to incorporate, and let us design your magnet for you. Whether we are designing it or you are choosing one of our predesigned options, we will ship your approved design within seven to 10 days of final approval. That's fast, convenient and affordable, and that's exactly what you receive from LogoMagnet. Start shopping today to find your ideal hockey magnet design.

All LogoMagnets template sports magnets below are 100% customizable, from colors to text and styling. If you want to use your own artwork, use our Upload Your Own Design Form Here.