1
Why Our Golf Car Magnets are the Best
**100% Made in the USA
**5 Year Warranty – Durable car magnets that resist cracking & fading

**Double the Thickness – Our magnets are 34 mils
**Printed, Not Laminated – We print directly on the surface, with UV ink
**Full-Service Art & Design Team
---
Magnet Pricing Chart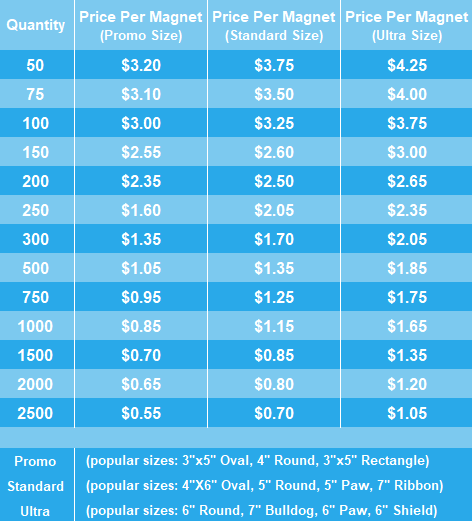 *Price tiers cover all custom shapes
*Price includes UV digital printing (screen printing available upon request at additional charge)
---
Easy & Personalized Ordering Process
#1 Submit Your Custom Design Order / Quoted Price
#2 Customer Service Rep will Connect with You Quickly
#3 Custom Magnet Mockup Created & Provided
#4 Approve Your Digital Proof
#5 Magnets Printed & Shipped!
---
Get Started with an Instant Price Quote!
Not ready yet? Need help with choosing a design?
View Our Golf Magnet Templates Below
Custom Golf Magnets Show Team Spirit and Support
Is your school's golf team raising enough funds for balls, clubs, and access to the range?  Is your golf club doing all it can to spread team spirit and raise the funds you need to keep providing excellent sports opportunities for your players? With golf car magnets from LogoMagnet, you can improve your fundraising efforts while encouraging greater team spirit. These professionally crafted magnets give you an affordable tool to maximize all of your marketing efforts.
Common Uses of Golf Ball Shaped Car Magnets
How can your organization make the most out of your custom car magnets? Many teams and athletic organizations use these magnets as fundraiser opportunities. Because of the low cost of custom golf magnets from LogoMagnet, you can re-sell them for just a few dollars and still make a profit. Sell them to players, parents, fans, supporters and anyone else who loves golf or a golfer on your team!
But fundraising is just one opportunity. You can also use these magnets to gather support for your team. Give them to supporters, booster club members, corporate sponsors, parents and players, and let them sing the praises of your team. By using them as gifts, you can improve the overall feeling about your team while also improving team or mascot recognition and support.
Who Can Use Golf Team Magnets
Golf magnets can be used by golf teams of all sizes, from school golf teams to adult recreational golf leagues. LogoMagnet offers various design options, and our option for customization allows you to create a magnet that showcases your team's brand or mascot.
Ordering Custom Golf Club Magnets from LogoMagnet
Ordering customer magnets for your golf club, league, or team from LogoMagnet is easy.  We have streamlined our ordering process to make it as simple as possible for you to order the magnets that fit your needs and have the look you want.
Start the process by browsing our current selection of magnet templates. You may find that there is already something similar to what you want that we can customize with your team colors, name and emblem.
If you don't see something you like, don't hesitate to give us a call. Our designers will work with you to craft a custom design that will embrace everything you love about your team.
Whether you customize one of our existing designs or build your own from scratch, we will send you the finished design to proof before we process the order. After making any changes that you request, we will create your magnets. All orders are shipped within seven to 10 days of the initial order date.
Don't be surprised if people are ready to buy as soon as you get your beautiful custom magnets from LogoMagnet. These are professionally printed designs that people will be proud to display. Bulk order quantities start at just 25 magnets, so you can easily support your team at a price that fits your budget. Contact LogoMagnet today to get started, or take time now to browse our pre-designed magnets to find one that suits what you're looking for.

All LogoMagnets template sports magnets below are 100% customizable, from colors to text and styling. If you want to use your own artwork, use our Upload Your Own Design Form Here.