Custom T-shirts…only $4.49!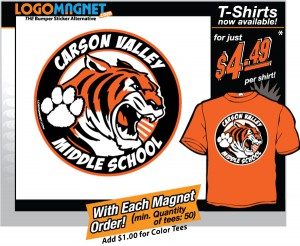 Now offering t-shirts for your school, church, company, club or organization. The same attention to detail that goes into our magnet process is evident with our top-quality screen printed tees! And with each magnet order, you can get your custom printed t-shirts for an unbelievably low price…only $4.49 each!* This option includes a 2-color imprint, based on your magnet design.
If you are not quite ready to place an order for magnets, you can still order imprinted tees at a great deal. The design options are the same as the car magnet options:
Submit your own idea, concept or design (click here)
Choose one of our ready-made designs (which will be customized with your text/colors) (view designs)
Choose a clipart image and submit your information. We will produce a dynamic design, just for you!
Click here to view pricing options (without magnet order)
You may also just fill out this simple contact form, and one of our reps will contact you to review your project.
*This price is available only in conjunction with a magnet order. Based on white t-shirts, printed with design in 2 colors, similar to magnet design. Add $1.00 for color shirts. Youth Small – Adult XL (add $1.50 per XXL/XXXL).