Custom School Magnets For Cars
RAISE MONEY FOR SCHOOLS WITH CAR MAGNETS
Does your school need a great way to raise money? Custom car magnets are the solution for simple fundraising for schools!
Order A Free Sample Pack
We offer free sample packs, custom art, and set up. We will send you a sample of what your magnet will look like using your own design, your mascot, a stock design of ours, or a custom design. All you have to do is request a free sample pack from us. Click here to get started.
Schools Benefit From Car Magnet Fundraisers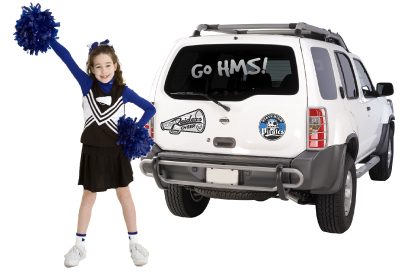 Our magnets are sold to the school at a discounted wholesale price, which are then sold at a higher regular price by the school. The school raises money from the profit of the magnet sale and also gains exposure from the magnets sold being displayed on cars.
Car magnets are also the best solution when it comes to simplicity with fundraisers. There is no worry of food spoiling as with other fundraisers and every buyer gets the same magnet, making distribution easy to manage.
What Should Schools Put On Their Car Magnets?
There are lots of options for schools when deciding what to print on their car magnet. The school mascot, logo, name, colors, or a combination of all can be used. Specific sports teams and clubs can also be used on the magnets. The choice is completely up to you and mostly depends on the fundraiser.
Quality Car Magnets Made to Last in The USA

We print directly on the magnetic material and our magnets are made especially for outdoor use. Many competitors of LogoMagnet will use a digitally printed, laminated magnet. These magnets simply will not last, and will fade quickly. Guaranteed No Fading!

Want More Information? You Can Get a Sample Pack of our Custom Car Magnets For Absolutely Free!