Need Custom Car Magnets for Your School, Church or Group?
Car Magnets have become one of the hottest items for simple, easy fundraisers AND promoting awareness and school spirit. Custom car magnets are great for schools, churches, civic groups and other organizations.
CUSTOM MAGNET DESIGNS…AT NO EXTRA CHARGE
We offer complete custom design services, at no extra charge, as well as free set-up! You may use your own logo or mascot on your custom made car magnet, one of our existing designs, or get a custom design based on your idea — it's that easy!
Easy Fundraising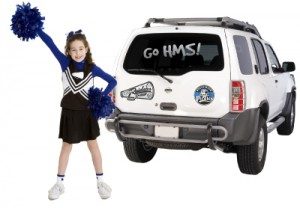 What better way to promote your school, church or group than with custom printed magnets for cars? It is also an easy fundraiser. There are no sizes to keep track of, you do not have to take special care as in dealing with food products, and their small size make them easy to transport and handle. There is just not a more simple fundraiser out there than vehicle magnets / magnetic bumper stickers.
Durable · Versatile · Vibrant · American Quality

Our product is 100% USA made, in which we take great pride, and is guaranteed against fading! Do not accept imitations — many of our "competitors" use a digitally printed, laminated product, which deteriorates and fades quickly. We print directly on the magnetic material, using inks specifically designed for outdoor use. MADE IN AMERICA!