Need Custom Car Magnets for Your School, Church or Group?
Car Magnets have become one of the hottest items for simple, easy fundraisers AND promoting awareness and school spirit. Custom car magnets are great for schools, churches, civic groups and other organizations.
CUSTOM CAR MAGNET DESIGNS…AT NO EXTRA CHARGE
We offer complete custom design services, at no extra charge, as well as free set-up! You may use your own logo or mascot on your custom made car magnet, one of our existing designs, or get a custom design based on your idea — it's that easy!
Easy Fundraising With Car Magnets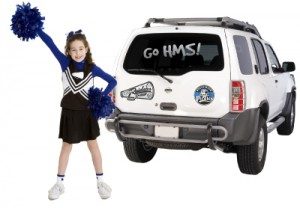 What better way to promote your school, church or group than with custom printed magnets for cars? It is also an easy fundraiser. There are no sizes to keep track of, you do not have to take special care as in dealing with food products, and their small size make them easy to transport and handle. There is just not a more simple fundraiser out there than vehicle magnets / magnetic bumper stickers.
Durable · Versatile · Vibrant · American Quality

Our product is 100% USA made, in which we take great pride, and is guaranteed against fading! Do not accept imitations — many of our "competitors" use a digitally printed, laminated product, which deteriorates and fades quickly. We print directly on the magnetic material, using inks specifically designed for outdoor use. MADE IN AMERICA!
Custom Vehicle Magnets of All Kinds
Our vehicle magnets are used for a large variety of situations. Customers include schools, coaches, parents, churches, sports teams, and much more. Below is a list of popular uses for our custom car magnets.
Custom school magnets - Schools are on of the best applications for our custom car magnets. Schools use our magnets for fundraising of all sorts. Magnets on vehicles are one of the best ways to allow schools to raise money and allow students to show their school spirit as well. Browse our magnets for schools today!
Custom football magnets - Need a great way to raise money and promote your football team? Our car magnet selection is great for football teams. Our magnets are also as tough as your players and are made to last. Don't get ripped off by companies that sell cheap car magnets that will crack, peel, and fade within a month. Team football helmets, football shaped magnets, or custom magnets of team logos are all things we've done in the past. Search our design gallery or upload your own custom design to get started.
Custom baseball magnets - Whether you're looking for a simple magnet of a baseball, a baseball blasting through the surface, or a custom baseball themed car magnet, we've got the design skills for the job.
Custom team magnets - Sports teams are a large majority of the magnets that we make, which is why we have an entire category in our design gallery dedicated to custom sports team magnets. We create vehicle magnets of all kinds of sports team logos, gear, shapes of basketballs, footballs, soccer balls, softballs, and more. Search our design gallery for your sport or request a quote for a custom magnet order.
Custom volleyball magnets - We have simple volleyball car magnets, as well as more complex magnets customized for specific teams. No matter what kind of volleyball magnet you're looking for, we've got the design and manufacturing ability to create it. You can upload your own rough sketch of a design or logo, search our design gallery for a magnet to customize, or have our designers create one for you from scratch.
Custom cheerleading magnets - Do you have spirit? Our custom cheerleading car magnets sure do! From a customizable megaphone magnet to custom designed magnets for specific teams, we've done it all. Check out our design gallery or have your own custom magnet ordered today.
Custom soccer magnets - As with most sports, we have a basic soccer ball magnet that can be customized to your liking or used just as it is. We also have plenty of custom designs that we've made, which can be seen in the soccer magnets category of the design gallery.
Custom softball magnets - Softball is another big sport that we've done plenty of custom designs for. If your softball team is looking for a custom magnet design, just choose one from the design gallery to be customized or send us what you're looking for with a custom order.
Custom basketball magnets - If you need a simple basketball magnet to customize as your own or a custom design, we've got the ability to create just the basketball themed custom car magnet you're looking for.

Want More Information? You Can Get a Sample Pack of our Custom Car Magnets For Absolutely Free!